World Stage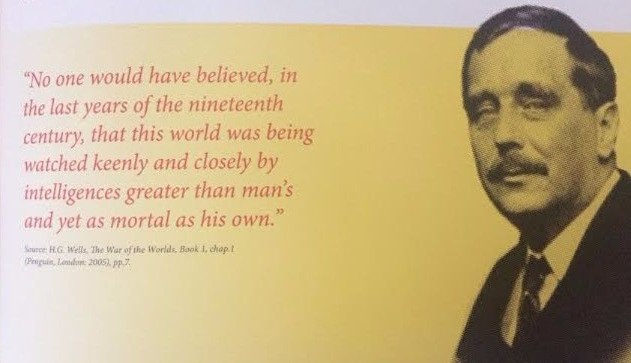 Wells' fame as a writer, a journalist, propagandist and public intellectual gave him access to a wide range of political figures and celebrities.
As a writer highly-regarded in the literary world, his literary contacts included: J.M. Barrie, Joseph Conrad, Stephen Crane, Ford Madox Ford, George Gissing and George Bernard Shaw.
Wells used his fame and notoriety to secure interviews with the world's political leaders by way of interpreting their views for a global audience and seeking a basis for peaceful world order. Having met President Theodore Roosevelt in 1906 and Vladimir Lenin in 1920, he subsequently interviewed both President Franklin D. Roosevelt and Joseph StalinNaturally, Wells mixed with many British politicians.
In 1937 he dedicated the novel Star-Begotten to 'my friend', Winston Churchill, who first made contact with Wells after the publication of Anticipations in 1901.
Among the celebrities well-known to Wells was Charlie Chaplin. Wells stayed with Chaplin and his wife, Paulette Goddard, when visiting Hollywood in 1935. And, during his visit Cecil B. de Mille, the film producer, hosted a party in his honour. Wells was also invited to stay with William Randolph Hearst, the media entrepreneur, in his grand and elaborate castle which features 165 rooms and 127 acres, and is situated on a rocky perch (named by Hearst) 'La Cuesta Encantada' – 'The Enchanted Hill'.
Relationships
H.G.Wells the self-confessed 'Don Juan among the intelligentsia' Wells' utopian ideals of free love, combined with his reputed attractiveness to women, resulted in numerous love affairs often conducted with famous and much younger women.
Unsurprisingly, he became the prime focus for gossip within the literary London clique.Wells' commitment to greater openness about sexual behaviour led him to acknowledge his reputation as a 'Don Juan among the intelligentsia' in the two-volume autobiography (Experiment in Autobiography) published in 1934. A third volume, entitled H. G. Wells in Love, was published posthumously in 1984 cataloguing his love life and recording his wife's alleged acceptance of his extra-marital activities, most of which occurred after he left Woking.
Wells' early lovers included the novelists Dorothy Richardson, Elizabeth von Arnim and Rebecca West as well as a young Fabian, Amber Reeves. Both Amber Reeves and Rebecca West gave birth to children fathered by Wells.
In 1908, Wells attempted to run away to Paris with Rosamund Bland, who was 20 years his junior and the step daughter of Edith Bland (better known as E.M. Nesbit, the author of The Railway Children). The eloping couple were betrayed. Rosamund's father caught them on a train at Paddington Station, grabbed his daughter, and reportedly punched Wells.
Other lovers included: Odette Keun, they spent time together near Grasse in France's Alpes-Maritimes, but parted acrimoniously; Martha Gellhorn, the American journalist and travel writer; Margaret Sanger, an American birth control activist; and Moura Budberg, who he met in 1920 at the Moscow house of writer, Maxim Gorky. Budberg became his constant companion during Wells' final years, but refused marriage. Suspected as being a double agent, Budberg, the great great aunt of Nick Clegg, the British deputy Prime Minister, was watched by the British security services.